Maybe you'll think I'm crazy for saying this - but this is one of the reviews that I have been most excited about! Yes. I'm very excited about my new,
Tervis Tumbler
. I have been familiar with Tervis for years - my grandparents have some Tervis tumblers that they have had as long as I have been alive. The quality is
amazing
. In fact, all of their products come with a
Life Time Warranty.
And, being a Floridian, I love that their products are made right here - in Florida.
I was sent one of their most popular products - a
Big-T Tumbler
(24 oz.) complete with a
letter
'C' (you know I love me some monogrammed products!) ... along with a pink travel
lid
!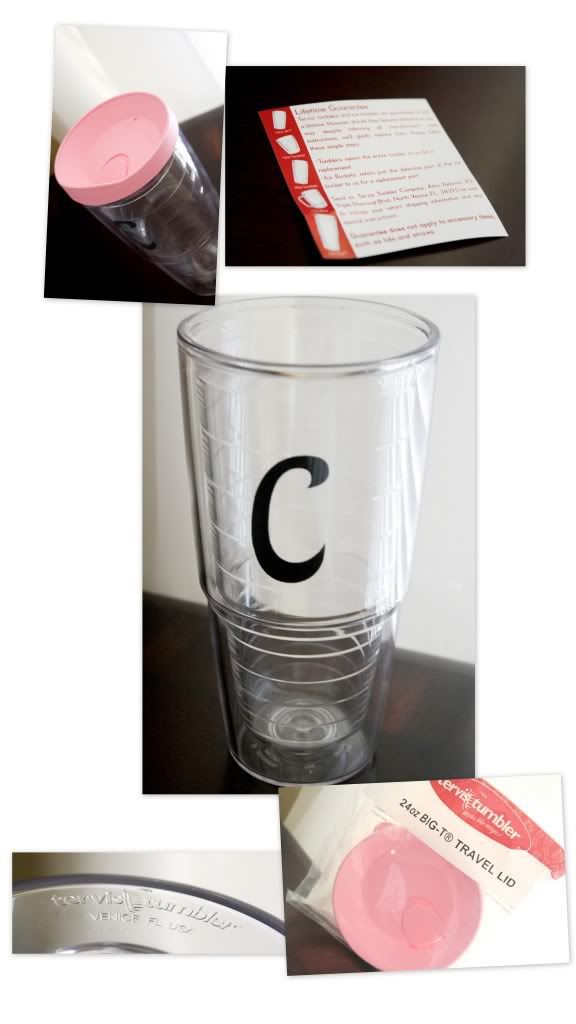 If you aren't already familiar with
Tervis
(and, if not ... really... you're missing out!) - you may be wondering what makes these so special? Well, all of their products are
insulated
- look closely at my picture - and you can see that there are inner & outer parts to the tumbler (with the letter 'C' between the two 'layers'). This keeps your drink cold (or hot!)
without condensation
.
Also! I really love how I don't have to worry about using a coaster with my Tervis -- since it eliminates the condensation-factor - I can just set it on any surface and not have to worry about water marks! (and, they're
dishwasher/microwave/freezer safe
... gotta love that.)
This company has been making high-quality products for 64 years...I think that is pretty amazing. I love that, by purchasing from Tervis, you are supporting an American-owned (Florida based!!)
company
.
What is your favorite Tervis design? There are TONS to choose from.
(I'd love to know - leave a comment!) :-)


p.s. I highly recommend ordering a
lid
to go with your tumbler - perfect for when you have your tumbler in your car's cup-holder (no spills!)
pps. You can even
custom-order
tumblers! (with your own photo/words/names/company logo/
monogram
/etc)
.

ppps. (these would make fabulous teacher gifts, graduation gifts, and for Father's Day too!) - also, great for kids as well :)